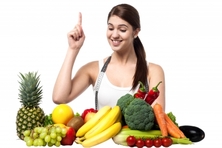 It's Tania here again to give you more tips for your Whole30.
I just got back from visiting my family in Victoria, BC, Canada. I asked my aunt about how she keeps healthy. Her snacking method inspired me!
She buys a bunch of different veggies, cuts them up, and takes a big baggie to work with her. That way, she has lots of healthy things to snack on all day. If she gets the munchies she won't be tempted to buy an unhealthy treat.
Personally, whenever I get lunch at Panera (they have lots of Whole30 friendly salad options - just be careful to read the dressing ingredients on their website when you choose) I am sorely tempted by their pastries. Especially since when you order an entree they always ask, "Would you like a pastry for 99 cents?" I am ashamed to say it's a 50/50 gamble whether I'll say yes or no!
I think I'll be much less tempted knowing that I have a healthy snack waiting for me in the mini fridge at work. I'll also be less tempted to go to Target on my lunch break (on the days I pack a lunch) and get a chocolate bar.
This is a great time to start this habit. You can take advantage of the last couple of weeks Farmer's Markets are open!
Find a market near you.
Image courtesy of stockimages at FreeDigitalPhotos.net