Dr. Nelson Gregory, DC, CSCS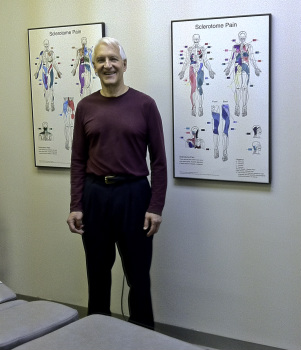 Dr. Nelson Gregory has been practicing chiropractic in Richmond, VA since
1988. His office is located in the Richmond Medical Park near the corner of Broad Street and Bremo Road.
In addition to traditional chiropractic techniques, Dr. Gregory has trained
extensively in
rehabilitation,
sports chiropractic
and strength and conditioning coaching. This provides his patients with a broad selection of therapeutic options to fit their individual needs.
Education
Texas Chiropractic College, Pasadena Texas - Doctor of Chiropractic – 1986
State University College at Oswego New York BA – 1976
Functional Movement Specialist utilizing Selective Functional Movement Assessment
Chiropractic Sports Physician, Logan College of Chiropractic 100 hr program.
Chiropractic Rehabilitation Doctor, Canadian Memorial College 300 hr program.
Licensure Memberships & Associations
National Strength and Conditioning Association
Virginia Chiropractic Association (Past-chairman of the Education Committee and Insurance committee member)
Specialties
Chiropractic
Strength and Conditioning
Rehabilitation
FMS (Functional Movement Screening) and SFMA (Selective Functional Movement Assessment)
Recreation 
Running
Cycling
Kayaking
Eating well
The French Film Festival
Developing an international rental property empire
---