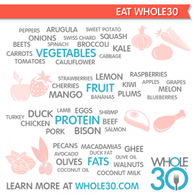 I recommend the Whole30 program to many of my patients who need to lose weight and clean up their food intake. It is not necessarily better than some other diets. For instance, the Modified Mediterranean diet has a lot of merit. However, I like the Whole30 because is lowers your glycemic index, helps you lose weight, and has the added benefit of exposing any intolerances or allergies of which you may be unaware.
I have attached the program rules as a downloadable document below. You can go to their website http://whole30.com/ for lots of free resources. Sign up for their email newsletter to access:
PDF of 6 recipes
Whole30 reader success stories
Q & A's with the Whole30 team
Whole30 events in your area
Tania will be sharing her experience completing the Whole30 in a future blog. Check back to get her recipe and planning recommendations!