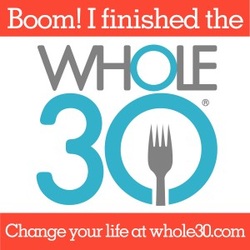 Hi, blog readers! I'm Tania, the office manager at RCS. Over the next couple weeks I'm going share a bunch of tips at you from my experience with the Whole30!
I did my Whole30 in January. I lost ten pounds in 30 days and felt much healthier by the end of it. I also developed good habits that keep me healthy in the long term.
I recommend the Whole30 to anyone interested in kickstarting their Paleo diet. If you're strict with yourself for an entire month and take it seriously, you end up with good habits and resources for your new lifestyle.
The biggest challenge I faced was avoiding non-Whole30 foods when I forgot to cook or pack a lunch. Meal planning will be your friend! Figure out what you want to eat for breakfast, lunch, dinner, and snacks for a week. Try to choose things that have ingredients that much up so you don't end up with spoiled veggies. For instance, if you're buying carrots you have to buy a pound minimum. Therefore you need two dishes that involve carrots for this week - perhaps beef stew and chicken stir fry!
I also had to plan WHEN to cook. Since I wasn't used to cooking, I didn't realize how much time it consumes! Now I put cooking on my calendar. I usually make two dishes at a time twice a week, and I make enough for lots of leftovers.
The
Whole30 meal plans
by the author of the "Well Fed" cookbooks are a good starting point. She has great recipes and even has a grocery list! If you are only cooking for one person or you're not used to cooking a lot, careful when following her advice. I found everything took me twice as long to prepare as she suggested (I had a lot of learning to do). Also, it was too much food for me. I recommend starting with half of the dishes she suggests.