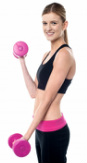 Tennis Elbow. Jumper's knee. Pitcher's Shoulder.
Repeated actions, such as those performed during many sports, can break down the integrity of a tendon over a period of time. This type of injury is referred to as tendinosis.*
Unfortunately, the recommended treatment for tendinosis is an exercise regime that often increases soreness in the present.
Multiple studies
over the past few years have shown that graded eccentric exercises (the lengthening of a muscle under stress) build muscle strength and control in ways that decrease pain and repair tendinosis. However, these types of exercises tend to be more difficult and can increase soreness in the short term.*
Think of the portion of the bicep curl following a lift in which you slowly lower the dumbbell - the eccentric portion of the exercise - and remember the muscle strain
.
To ensure that our tendinosis patients aren't aggravating sore muscles without result, we lay out a recovery plan that is patient and injury specific. We start with a passive approach that breaks down weak tissue and readies it to be replaced with stronger tissue. Then we adjust the biomechanics to decrease the stress on muscles and tendons. We want to ensure correct form so that we do not compound the pain of the injury with bad strength training technique. Next we add in progressive passive to active exercises that include both concentric (muscle contraction) and eccentric (muscle lengthening) exercise. And finally we finish the repair work by polishing off muscle control with eccentric exercises. Of course, after the tendon has been repaired and the muscle strengthened, we will still need to work on regaining the speed and coordination that may have been lost during recovery time.
Remember that exercise routines including eccentric exercise can (and are expected to) flare up symptoms and pain in the short term. As such, tendinosis recovery requires patience and long term focus.
We encourage individuals who are suffering from a long term injury such as tendonisis to consult with a specialist on the specific injury and recovery plan.
Tendinitis, an acute inflammation following tendon or muscle strain, is often confused with tendinosis and requires a very different treatment plan. If you have ever sprained an ankle, it is likely you've had tendinitis. However, if you sprain your ankle over and over again you could be developing tendinosis. In next week's post we'll address popular and research based treatment for tendintis like sprains and strains (spoiler: the Rest Ice Compression Elevation formula might not be as effective as popular treatment would have us believe).
However, if you have a tendinitis strain that hasn't recovered (still walking around on that sprained ankle?) or that happens over and over, you may be developing tendinosis, so come see us and we'll work together on finding a solution.
*Tendinosis can be accompanied by enthesopathies, an exquisitely tender spot on the bone happens when an enthesis (the region in which a tendon meets the bone) has been strained and requires a similar recovery schedule.
Image courtesy of stockimages at FreeDigitalPhotos.net