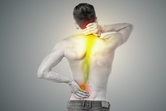 Fibromyalgia is a chronic pain condition with an unknown or unclear cause. Because we don't know where the pain comes from, developing an effective research based treatment has proven a challenge over the past half a century. As research on fibromyalgia develops, the medical field continues to re-evaluate how to diagnose and care for people with the condition.
Current research
suggests that the cause of fibromyalgia is complex and multifaceted – and recommends a patient centered multifaceted treatment plan in response.
Here at Richmond Chiropractic Solutions, we work with fibromyalgia patients in developing individual treatment plans to help reduce pain in all aspects of their lives. These plans often include chiropractic manipulation, massage, and lifestyle changes. Dr. Gregory has been treating fibromyalgia patients with a broad based approach for over thirty years.
In addition to its unclear cause, what makes fibromyalgia so difficult to treat is its secondary symptoms, including fatigue, sleep irregularity, memory problems, and depression. We take this into consideration when developing our treatment plans and are especially proactive in addressing Fibromyalgia's role in producing depression. As you may imagine, depression can increase pain, leading to deeper depression. This positive feedback loop continues to make life more and more difficult for fibromyalgia patients if left untreated.
We also know that fibromyalgia can co-exist with other pain producing conditions, so we work to treat each condition to reduce a patient's pain. Where possible, we treat inflammation and encourage patients to address dietary sensitivity that could be increasing their pain (a good resource for this is the
whole 30 diet
).
Our treatment plan includes three major components: chiropractic care, gentle or deep tissue massage, and exercise.
Chiropractic manipulation addresses the joint stress and aligns the body in preparation for more active treatments. We can target the specific movements that might trigger pain and assist patients with corrective exercises that build their stability and prepare them for more intense exercise routines.


Massage works to address muscle stress and assists the individuals to relax tense muscle groups, thus reducing pain. It can also be effective in managing trigger points and myofascial pain.


Graduated exercise plans work on stretching and stabilizing muscles so that individuals can deal with normal day to day stresses without aggravating their pain.


We encourage our fibromyalgia patients to engage in exercise activities that build their stability, endurance, and strength – such as yoga – in a graduated intensity that doesn't overwhelm them. Exercise has the added benefits of being an extremely effective anti-depressant and regulates the sleep cycle – and so addresses some of the secondary side effects of Fibromyalgia.
Each treatment plan reflects the individual needs of the fibromyalgia patient. Our goal is to address the neuromusculoskeletal issues that increase their pain and to help patients become stronger and more active in their daily lives.
Image courtesy of [name of the image creator] at FreeDigitalPhotos.net