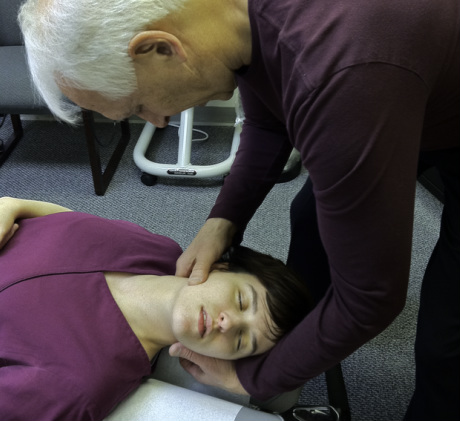 At Richmond Chiropractic Solutions we take great pride in providing the
finest
chiropractic
rehabilitation care to our patients. Below is a sampling of the different chiropractic services we offer in our Richmond office.
Chiropractic Care
We have a large selection of sports and rehabilitative options as well as a
broad range of traditional chiropractic techniques to chose from when developing
treatment plans for our patients. If you review Dr. Gregory's curriculum vitae,
you will only see the specialties in which he has received extensive training and experience.
In addition to this Dr. Gregory has continued taking a variety of chiropractic
technique classes for the past 30 years. If you have experienced success with a
particular technique and wonder if we can provide it, feel free to call the
office.
Corrective Exercises
We teach our patients specific rehabilitative exercises to help strengthen
and correct their problem. These exercises can be performed in the comfort of
your home and can greatly improve the effectiveness of your spinal therapy.
In addition to skeletal dysfunction, muscles and
connective tissues
can be strained
or sprained by improper alignment and use or trauma. Specific exercises and
stretches can help your body stay in balance and in health.
Dr. Gregory makes use of his sports chiropractic and his strength and
conditioning training when working to enhance athletic performance as well as
during the rehab of athletic injuries. The same approach that works well for
the athletes is great for normally active patients.
Yoga
Yoga is a traditional therapeutic practice that focuses on maintaining correct alignment through movements and postures. We develop sequencing that is specific to each patient's needs, allowing patients to experience their capacity for a fuller range of stable movement. Once in a pose, alignment cues are given that teach the patient how to modify according to their body, gently guiding the muscles back to their natural state. Private, hour long yoga sessions are available upon request.
Lifestyle Advice
Our goal is to help every patient achieve a fulfilling and happy lifestyle
full of the activities they enjoy most. We recognize that each our patient is a
whole person, and to help them reach true health and wellness is a collaborate
effort between our professionals and our patients. Advice may range from weight
management and fitness to sleep hygene. We often find it helpful to "coach" our
patients on certain activities they should avoid or do differently to avoid
aggravating their particular health challenge.
Nutritional Counseling
We provide specific recommendations on nutritional supplements and healthy
food choices to enhance our patient´s return to optimal health. Do you know
which supplements and vitamins are good for you?  Dr. Gregory can
provide nutritional guidance based on your individual needs.
Spinal & Functional Movement Screenings
Spinal and functional movement screenings can reveal important health information
and identify problems that need to be addressed to improve health and
well-being. We provide screenings at runs and sporting events, community events,
health fairs and places of employment. Contact us today if we can help you with
your event.
Physical Medicine and Rehabilitation Services 
To complement and enhance the healing effects of Dr. Gregory's Chiropractic
adjustments, we also provide the following physical medicine and rehabilitation
services:
· Mechanical traction
· Cryotherapy (Ice)
· Therapeutic exercise and stretching 
· Neuromuscular reeducation for balance, coordination and posture 
· Manual therapy including deep tissue and myofascial release techniques