Now Accepting New Patients!

Call us now at (804)288-0582, and mention this offer and receive FREE Selective Functional Movement Exam, with FREE corrective exercise training. No commitment for further treatment. The SFMA is a sophisticated breakdown used by chiropractors, physical therapists, and certified athletic trainers, to analyze how the body works together as a unit. If you have any additional questions, please give us a call!
Welcome to Richmond Chiropractic Solutions!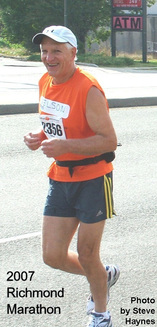 As a leading Richmond Sports Chiropractor and Strength and Conditioning Specialist, Dr. Gregory is dedicated to helping you achieve your performance and wellness goals. He is also a Chiropractic Rehabilitation Doctor, trained to help you return to the activities you have been missing.
With 30 years of experience as a chiropractor in Richmond Virginia, Doctor Gregory has treated many patients with problems ranging from
carpal tunnel
and
tendinitis
to
scoliosis
and
headaches
, from
whiplash
to
sciatica
. His patients have experienced excellent success with these conditions and many others.
Our office is committed to bringing you to better health through
Strength Training
, Functional Movement Training, Muscle Energy Technique, Deep Tissue Therapy
and
evidence-based Chiropractic care.Richmond Chiropractic Solutions is conveniently located at:
2004 Bremo Rd, Suite 101 Richmond VA in the Richmond Medical Park near the corner of Broad Street and Bremo Road.

Call 804-288-0582 for an appointment!Early morning and evening appointments are available!
---
Consultation Services: It is worth taking a second look.
After your injury:
Were you able to fully return to your desired activities?
Are you progressing with your treatment as expected?
One of the major aspects of Dr. Gregory's practice is to provide assistance in diagnosing and management of difficult cases. Patients can come in for one or a limited number of visits and receive an opinion of what their continuing is and recommendations on improvements in care / treatment.
Many patients from out of the area or with special insurance coverage then can return to their regular chiropractor or PT for continued care. Dr. Gregory frequently provides recommendations for corrective exercises and other home care. Improving a diagnosis can both save money and improve outcome satisfaction.
If you are requesting this type of service and wish us to coordinate with your treating (doctor / chiropractor / PT) let us know and be certain to provide accurate contact information.
Of course you also always have access to your records.
---