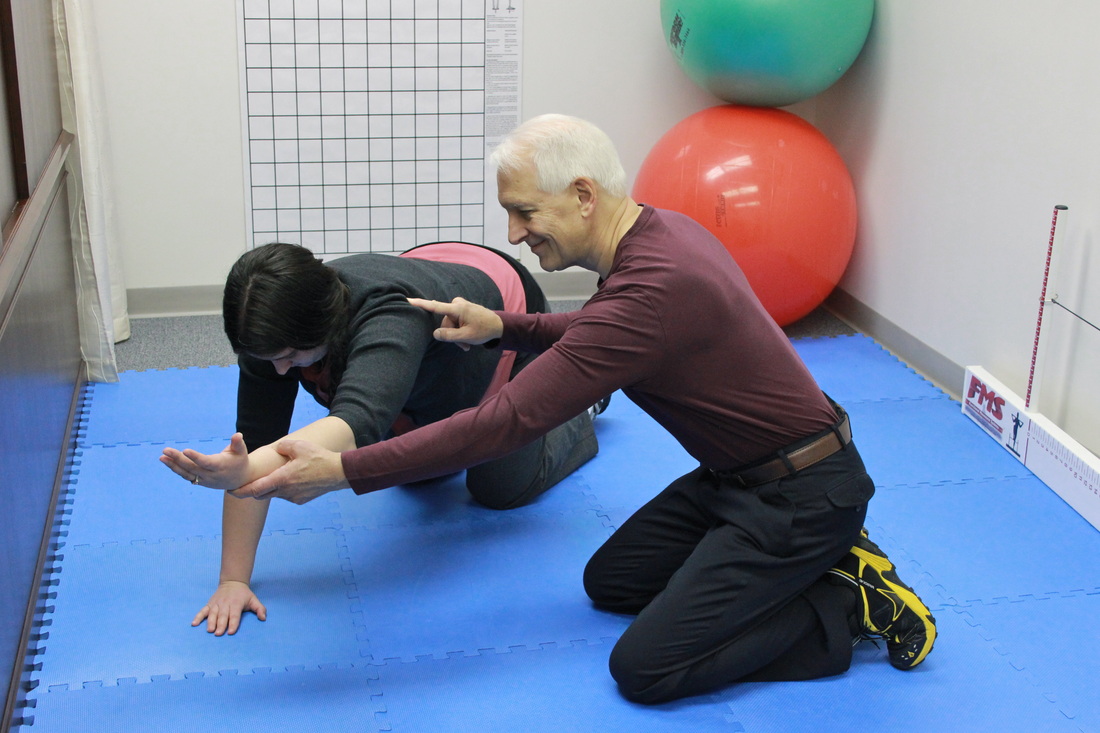 Chiropractic Philosophy
Unlike conventional medicine, which focuses on attempting to treat disease
once it occurs, Richmond Chiropractic Solutions emphasizes improving your health
in an effort to reduce the risk of pain and illness. Most
people would rather be healthy and avoid illness. This is one of the main
reasons for the popularity of the wellness aspect of our practice.
While prevention is the ideal, we recognize that most of our patients come to
us with problems -- pain and lost function or performance.  We take the time
to understand your problems and goals in order to provide individualized
planning and services that meet your needs.
Chiropractic rehabilitation applies the effective
evidence based
Sports
Medicine approach to recovery of lost function. Whether the problem is a
sprained ankle, sciatica or the chronic pain of fibromyalgia we need to regain
our ability to function in life the way we want. Life should be fun and fulfilling. We
deserve to experience it fully.
Dr Gregory, his wife Shera and many of his friends are runners participating
in 10 K to Marathon races with the Sports Backers Marathon Training Team as well
as multisport activities.  This provides him with an increased understanding of
patient's active lifestyles and the value they place on their abilities. 
There is a constant back and forth communication/control between your central nervous system and the rest of your body. There are also direct cell to cell chemical signaling and hormonal controls working at various speeds to coordinate you with yourself and in response to your environment.
Mechanical coordination is also strongly influenced by your fascial system that holds you together and allows you to move properly along with your bones that transmit the compression forces and the joints with their cartilage interfaces that permit movement. Your muscles move you by contraction and pulling your bones.
Our bodies are made to develop from a single cell into a functional human. Some of the information is genetic and epigenetic and some information is from neighboring cells and the outside environment. To become our best, we need a good environment, including having a mother who does not drink or smoke during pregnancy and loves and pays attention to us once we are born.
Our bodies need movement and exercise which also affects our brains, preventing depression, increasing learning capacity, and preventing cognitive decline and
Alzheimer's
. Exercise (at least 40 minutes per day) helps you sleep, and sleep is essential for recovering from strenuous exercise.
I recommend at least 8 hours of sleep per night. Children and athletes need more. If your child is having problems with school or behavior, the first action needs to be getting to bed/lights off at the same time every day, and then at least 10 hours sleep. If you have not done that, then you may end up treating them with drugs for a problem that is secondary, and that is definitely not good. Bright lights before bed, especially computer or phone screens, can interfere with sleep, so consider reading a book with an incandescent rather than fluorescent light.
Normal sensory input benefits brain function and decreases pain. Almost all of the signals from your body's pain sensing nerve cells go to other places than the parts that sense it as painful. If the pain signals do not go to pain identifying regions, then what are they doing? Much of the signal goes to influence your autonomic nervous system that regulates your blood flow, heart rate, blood pressure, immune system, digestion, etc. This is one reason, beyond the placebo effect, people have claimed miracle cures of many diseases after having chiropractic or other body work. The problem is that it is not a predictable effect. You can correct movement quality and some unexpected things may get better, but you can't just manipulate a specific vertebra and expect to cure a specific disease anymore than you can get a date with a particular person just by being a nice guy.
For example, I have a few patients who tell me that they see better after chiropractic care. They show up every year or three when they notice their vision becoming poor again. If I could predictably improve everyone's vision, I would not have to be concerned over getting patients to refer to me. I also would not have had to pay for Lasic surgery. The main point here is that it is important to maintain good quality, pain free movement. It not only allows you to be active and not wear out your joints prematurely; it also helps in maintaining good overall health.
Stress is a major health problem, and most people think of it as related to their job and family. You can also be stressed by poor movement. Just challenge someone's balance with a test or exercise and they begin to sweat - not from the little actual muscular work, but because your sympathetic nervous system controls sweating as well as blood pressure, etc. Have someone stand on one foot or go through some single leg yoga moves. If they are wobbling around it indicates that they are wobbling with each step they take. This not only stresses their knee, ankle and foot; it also creates an increase in overall sympathetic activity even with simple walking.
Most of us can't juggle, but if you ask whether we could learn with practice, we would say, "Probably, yes." Similarly, most of us can learn to significantly improve our balance and function with practice, and it is worth the effort. I use the Selective Functional Movement Assessment/Functional Movement Screen (SFMA/FMS) information to identify problems, help select correction exercises/activities, and check to see if these have the desired effect. I want to know if you can perform movement patterns that relate to how you work in your life. If you can't, then I want to know whether it is a problem with your flexibility and neurological control. It lets me know what to do for you, what you have to do for yourself, and whether this is working to correct your problem.